Welcome to Hoskin Mortgages. Please view our very short video about the Mortgage Industry and why we can help you at Hoskin Mortgages.
Hoskin Mortgages is part of Hoskin Financial Planning who are Independent Financial Advisers, regulated by the Financial Conduct Authority providing financial planning services to clients all over England, predominantly we cover the South East of England from London through to Kent, Hertfordshire, Essex, Suffolk and Norfolk.
From our Head Office located in the historic town of Maldon, Essex, "We provide the human touch that makes the difference." also from our satellite offices located in Walthamstow, Southed and Ipswich we can cover from the heart of London with easy access to service our clients across the London Boroughs of Havering, Redbridge, Barking and Dagenham through to the Docklands and East London and down the A13 corridor to Southend and across the A12 linking up with the A14 at Ipswich through to Cambridge and Norfolk..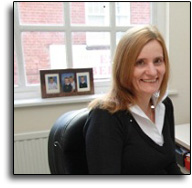 My name is Clare Allen and I head up the Hoskin Mortgages team. As an experienced Mortgage Adviser, with a successful track record of 28 years within the banking and financial sector. I am a fully qualified Mortgage Adviser and hold the Financial Planning certificate along with the Certificate in Mortgage Advice and Practice.
Our focus is establishing a relationship that will last, whether you are building a Property investment portfolio or starting out on the property ladder.
Our aim is for a greater understanding of who you are, and what makes you unique and always to ensure the clients changing needs are continually met.
I get an enormous buzz from delivering success to my clients. I find people do not want to be sold a mortgage, they want to talk about a mortgage, it is about relationships.
There are many different types of mortgages available for everyone, dependent on circumstances.
Yes, it can be confusing, but not with us on your side. We can take care of the process for you, scour the market for the best rates, and act on your behalf.
Mortgage Advice
We will complete a fact find to determine;
Need
Affordability
Criteria
Explain the buying process and methods of repayment.
Explain the mortgage process & role of other agencies.
Determine the availability of products that matches your profile.
Explain different risks involved, inflation, market, interest rate, currency risk etc.
Explain product types, fixed, tracker, capped, discount, variable etc.
Once we've selected a product that best meets your needs we can produce a Key Features document that details mortgage related costs.
The intermediary will source the 'whole of market' (see definition below) and select a product from this range. Direct Channel products are not available to intermediaries. However, we can still advise on the suitability of these products but cannot guarantee the information provided by the lender is accurate.
We can't stop mortgages eating up a big chunk of your income or business outgoings. But we can make the process of borrowing money far less complicated. Please browse our website for information or contact us by email or on 01621 876030 to arrange a review of your mortgage needs if you are moving
Moving home or starting out on the property market
Staying put but looking around for a better deal
Thinking about venturing into the buy-to-let market
We appreciate your property whether residential or commercial is your greatest asset and we care about it too. From buy to let to your first steps on the property ladder, we'll source the best mortgage deals on your behalf.
For more help, advice and information please do not hesitate to contact us.
For more information on other Hoskin Financial Planning Services please click below.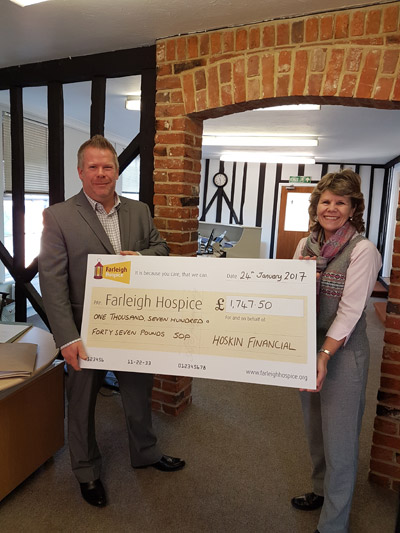 Paul Hoskin along with a Charity Cheque for Farleigh Cheque